Knowing how to revive a dying boxwood shrub can help bring your beloved greens back to life. Also, shrubs and other landscaping features are an investment in your property. You don't want to see those greens die off unnecessarily! Shrubs and other gardens also provide privacy, noise reduction, and great curb appeal.
The good news is that you can often revive a dying boxwood shrub with a bit of proper care. Understanding the best conditions for their growth can also contribute to their overall health. With this in mind, check out some tips on how to revive a dying box shrub. These should help ensure a stunning property outside your home or business!
How to Revive a Dying Boxwood Shrub, Step by Step
Before reviving a dying boxwood shrub, you must determine why it's struggling. Your beloved greens might never thrive if you don't correct that issue. Inclement weather, drought, insect infestation, and harsh sunlight can mean premature death for many boxwood plants. Also, weeds can choke out the soil and shrub roots.
Once you've identified and corrected these issues, you can revive that shrub. Check out some tips on how to do this, step by step:
First, use disinfected, clean shears to cut back damaged branches. Trim these to the point where you see healthy growth.
Also, prune the shrub's center, especially if it's overly dense! Too much growth in a shrub's center chokes sunlight and fresh air circulation. Trim back about 10% of the inner growth and monitor the shrub's thickness as needed.
Remember that boxwood shrubs have short, shallow roots. In turn, keep the soil around the shrub watered so it's moist but not overly damp. Ensure you do this year-round and especially after a drought or dry weather.
Add a one-inch mulch layer to the soil after watering the plant. Keep the mulch about six inches away from the shrub stem so it can breathe properly. Also, replace the mulch as often as needed to keep the soil moist and healthy.
Apply a slow-releasing fertilizer in the late fall. This step allows the materials to feed the plant while it's dormant.
These simple steps should allow a boxwood shrub to grow healthy and strong again. However, you might keep reading for tips on addressing severe damage. These tips can ensure a healthy, thriving environment for your boxwood shrubs!
What to Do With Dying Boxwoods?
If you notice damage to a boxwood shrub, you might need to address its causes while treating it. Also, knowing how to prevent damage ensures healthy plants on your property! Check out what to do with dying boxwoods and how to prevent premature shrub death.
Nutrient deficiency
When plants don't have proper nutrition, they tend to die away before too long. The best way to spot a nutrient deficiency is to regularly check the soil's pH. Then, apply fertilizer or treatment as needed to raise or lower soil acidity. Also, keep fresh mulch around the shrubs to prevent soil erosion and nutrient loss.
Fertilizer damage
While fertilizers encourage healthy plant growth, too much can choke your beloved greens! Fertilizer salts, when applied too liberally, absorb moisture from the soil. In turn, plants, including your boxwood shrubs, might wither and dry out.
In most cases, you can flush the soil with clean water and avoid adding fertilizers. Also, adjust the fertilizer type you're using. A more neutral treatment option can avoid future damage and allow the shrub to heal. Above all, err on the side of caution when using fertilizer and use less than you think you'll need.
Drought
Dry soil conditions often risk drought stress and withering. Boxwood plants are especially susceptible since they have shallow roots, as said. To combat this, monitor the soil's moisture and keep it damp but not "spongy." Fresh mulch also helps keep the soil moist and your shrubs healthy.
Dieback
The term dieback refers to a progressive decline of a plant's shoots, starting at the tip. Improper pruning often risks dieback for boxwood shrubs. For example, pruning too late in fall means exposing fresh sprouts to harsh winter weather.
To avoid dieback, use care when pruning and do this only during spring and summer weather. Cover the boxwoods in a protective sheet if you're expecting harsh weather. Lastly, consider investing in professional trimming rather than cutting those shrubs yourself! A professional understands the best way to trim shrubs without damaging them. However, if you require shrub removal, it's best to get a professional option.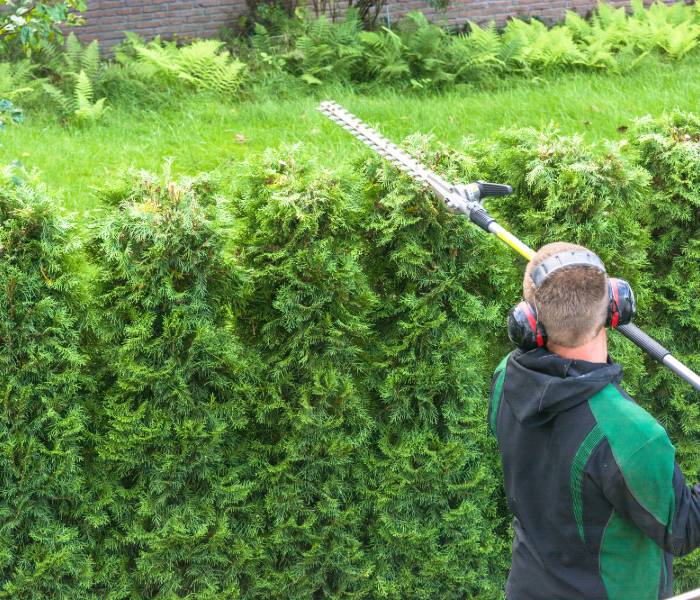 Boxwood Blight: What's the 411
If boxwood blight is present, you will see discoloration and black streaks on stems, leaves, and twigs. It's important to take immediate action if you suspect boxwood blight. This is a fungal disease and can spread to other plants on your property if not attended to.
The best path forward is to hire a professional to deal with it if the boxwood is too far gone. If it's the beginning stages of the blight, you should wear gloves and prune off diseased branches and leaves.
Can Boxwoods Be Brought Back to Life?
Property owners often wonder if landscapers can bring dead greens and trees back to life. Unfortunately, once vegetation dies, there is no way to revive it. In these cases, a landscaper or property owner should remove that greenery.
Also, property owners should call a tree services contractor to remove the roots of large greenery and trees. If left in place, those roots can continue to grow and expand. They can wrap around nearby foundation concrete or affect soil health.
Additionally, those roots might grow new greens or trees unexpectedly! Dry roots can also make their way to the soil's surface, creating a tripping hazard. They can also look unsightly and detract from your property's curb appeal.
Moreover, remember that professionals have the tools needed for safe shrub removal and root cutting. A tree services contractor can also haul away that debris, which you typically cannot leave out with your everyday trash. Professional services then mean a clean, pristine property with healthy greenery, free of dead shrubs and hedges.
Springfield Tree Trimming & Removal Service is happy to help answer the question of how to revive dying boxwood plants. If you're ready for expert services on your property, call our Springfield tree services contractor. We can fully examine your boxwood leaves or decline and ensure healthy wood is on your plants. We offer FREE consultations and price quotes for every project we take on. Additionally, we're always happy to answer your questions every step of the way. For more information, fill out our callback form or contact our customer care team today.